Keep Your F-150, Escape, Explorer, Bronco Sport or Ranger in Top Shape in Ellijay Georgia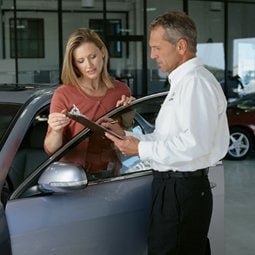 If you've ever received unsatisfactory service on your Ford model, then you understand the value of a team who knows what your car needs for optimum performance. When you bring your vehicle to Ronnie Thompson Ford, you can count on our trained technicians to do it right the first time because they have the right tools for the job. To us, you're more than a customer; you're family.
Trust Ronnie Thompson Ford for Routine Maintenance & Larger Repairs Alike
Every car needs a basic level of routine maintenance performed, per the vehicle's owner's manual. This typically involves things like oil changes, filter replacements, tire rotations, and more. We can take care of those routine services so you can focus more on enjoying your vehicle and less on tinkering under the hood. And if your car requires a larger fix, we can tackle that too. After all, who better to trust than the ones already taking care of your car?
Service that Works with Your Busy Schedule
Schedule your appointment with our professional service team soon. We make it easy and convenient to get all your vehicle's necessary maintenance done, thanks to our user-friendly online service appointment scheduling tool. You choose the time and date that works best for your busy schedule, and we'll work with you to make sure you can get your car the service it needs. Visit us in person soon at our Ellijay location soon or reach out online to set up your next automotive service appointment.