Meet the Staff of Ronnie Thompson Ford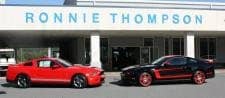 Ronnie Thompson Ford - We want you as a customer for LIFE!!!
706-515-FORD (3673)
At Ronnie Thompson Ford we are proud of the quality vehicle's we sell and our dedication to serve the needs of our customers. This is reflected in the amount of repeat business we receive. Whether this is your first purchase with us or one of many that you've had, you can count on our entire dedicated staff to make it the best buying experience possible. On this page, you will find testimonial's written by our very satisfied customers. At Ronnie Thompson Ford, you aren't just a customer, you're family. We Want You as a Customer for LIFE!!!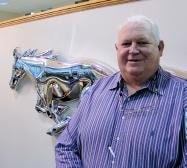 Ronnie Thompson - OWNER
706-515-FORD (3673)
Ronnie started his career in the parts department of another Ford dealership in 1972. After moving on to sales, Thompson left in 1976 to launch his own used-car business. In 1987 he was hired by Riverview Ford as general sales manager and a few years later began buying stock in the company. He became dealer principal in 1994 and rechristened the dealership Ronnie Thompson Ford Mercury in 1996. "By the early '90's we were selling over 100 new and used vehicles a month" Thompson says. The Thompsons designed the new 32,000-square-foot facility themselves, incorporating key TrustMark design cues such as a 40-foot tower bearing the blue oval. "Ronnie worked really hard for a number of years to purchase his dealership - it wasn't passed down through generations. You have to be doing something right to own a thriving dealership after being in the car business for 32 years in the same town. He has a shining reputation for honesty and loyalty, and his employees maintain that reputation by working just as hard as he does to keep customers satisfied.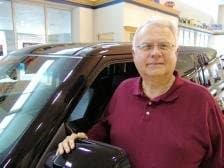 Paul Nealey - OWNER
706-515-FORD (3673)
Paul is also a native to Gilmer County and has lived in Ellijay, GA his entire life. After short stops at Lockheed, US Post office and the State of Georgia, Paul found his place in Banking from 1974-2012. He and his wife of 40 years, Diane, have one son, 26, who is also a banker. His favorite food is All American - The Cheeseburger loaded with everything and served with Onion Rings!!! Mmmm!!! Hobbies: TRAINS. Anything to do with big trains, little trains, toy trains, model trains, well, you get the idea. He especially loves HO gauge and 027. Did you know that HO stands for "half of" "O" gauge trains? So, did he ever put a penny on a railroad track? "No way, I was too thrifty" LOL Perfect Sunday: Church at First Baptist of Ellijay and supper with the family… all vegetables please. Okra, Pinto's, green's, cornbread. Member of the Masonic Lodge. So what has Paul always wanted to do? Ride the Durango & Silverton Narrow Gauge railroad. What an adventure!!!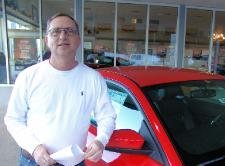 Trent Sanford - Comptroller
706-515-FORD (3673)
Native Gilmer county resident, Trent spent the past 30 years as a banker and CPA. He is a single father of a 22 year old son and laughingly says "Grandfather" to Sabel the Bloodhound. Trent loves to hike, travel, mine for Gold and collect coins. Sports: UGA and Braves Baseball. Favorite food: Mexican and make it SPICY!!! Sunday is family time and relaxation. Music tastes range from country to oldies to beach music. Few people know that Trent started the White Christmas Committee in association with the local Lion's club, was President of the Georgia Jr. Chamber and still serves as advisor to this day. Trent is a great guy with a HUGE heart!!!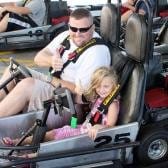 Heath Thompson - General Manager
706-515-FORD (3673)
Heath grew up in the car business, so it flows through his blood. A life long resident of Gilmer County, he prefers the simple life - spending time with family, his wife Kristen and his two beautiful daughters Kenley (4yrs) and Khloe (8mo). Summertime means fishing, softball and outdoor BBQ's. Few people know that he's a great cook and even fewer know that if he wasn't selling cars, he would head for the ocean and fulfill a lifelong dream of being a Boat Captain... how does that ring your bell? Oh, and his favorite color? BLUE!!! A Ford man through and through.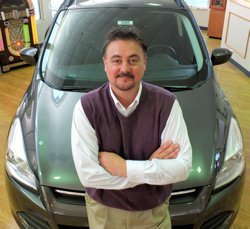 Roger Lawson - Sales Manager
706-515-FORD (3673)
Roger was born and raised in Murray county and now lives in Dalton with his wife and 2 daughters.  The car business is all he's ever known, making a carreer of it since 1986.  When it comes to food, nothing beats country cooking in his book.  His ears perk up if someone mentions Cracker Barrel.  When it comes to spors, he is trying his hand at Golf and loves it.  Time spent working around the house and in the yard brings him great joy.  He says he really doesn't have a favorite color, he likes them all.  Few people know that he has always wanted to learn how to fly a plane and plans to take lessons very soon.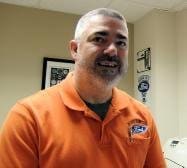 Kevin O'Neal - Parts Manager
706-515-FORD (3673)
Polk County, Tennessee is where Kevin was born, but he call McCaysville, Georgia home. Married for the past 27 years to his sweetheart Vicky. They have 2 daughters (Whitley 21 and Brittany 18). When he's not managing the parts counter at Ronnie Thompson Ford, Kevin enjoys fishing, guns and most sports. His favorite food is fish, but especially locally caught Bass. His favorite color is Blue (despite the fact that he has a VOLS colored shirt on in his profile picture). He enjoys both Gospel and country music and considers a perfect Sunday to be an amazing message at Church, supper with family and just relaxing. Kevin has always wanted to explore Canada.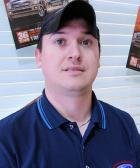 Curtis Stover - Parts Counter
706-515-FORD (3673)
Born in Dalton, GA but has lived in Ellijay since 1982. Married to his wife Jennifer for 9 years and they have two beautiful daughters (Emma 9mos & Lannah 6 yrs). Curtis enjoys restoring old cars. Some he has restored '66 Plymouth Satellite, '66 Dodge Cornet, '65 Ford Falcon and a'57 Chevy. His favorite food is BBQ Pork. Perfect Sunday: Church and supper with his family and Mom. Favorite color: Red and Pale Yellow. Next on the list: A trip to the mountain west - Rockies and Teton's!!!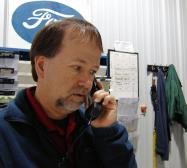 Shawn Carver - Service Manager
706-515-FORD (3673)
Shawn Carver (yes, brother of Barry, father of Zach), was born and raised in Fannin County, GA. Married 26 years to his lovely wife Becky and they have two sons, Zach and Brady Carver. Shawn loves to tinker with old cars and old bicycles in his spare time. He loves Italian cooking and listening to Gospel music. Perfect Sunday seeing someone give their life over to Jesus Christ, then home to relax and love on his family. Secret thing he would love to do; See the Dallas Cowboy's play in Texas Stadium. Private Suite? NAW!!!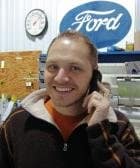 Chris Henson - Service Advisor
706-515-FORD (3673)
Gilmer county native, Chris is married to his sweetheart for the past 11 years, Hope. They have two beautiful daughters (Mallory 7yrs & Mia 3yrs). Chris likes to watch sports but doesn't play much. Favorite food: ANYTHING SPICY - THE HOTTER THE BETTER!!! Oh NO, another one of these guys. How do they do it? A perfect Sunday: Spirit filled Sermon, time with the family and simply relaxing. Contemporary Christian music is what you'll find him listening to on the radio. Where has he always wanted to go to? AUSTRALIA, mate!!!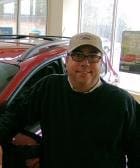 Skip Larson - Service Advisor
706-515-FORD (3673)
You would think that Skip should have become an astronaut considering he was born in Cape Canaveral, FL. He kept his feet on the ground and worked in the food service industry for 15 years until fate opened a door and he began a career in car sales, working at Sale Auto Mall in Dalton, GA and now here at Ronnie Thompson Ford. When not working, Skip enjoys quiet time at home with his wife and their beautiful daughter Jennifer (7yrs), reading the Bible and talking about the Lord. For fun he is a certified gear head and loves ANYTHING to do with cars, did we mention he loves cars? (especially Ford's - ask him about his Mustang Convertible). Few people would know he LOVES to Skateboard!!! Hang Ten dude!!!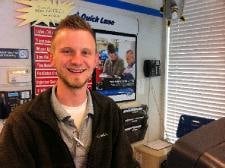 Zach Carver - Quick Lane Manager
706-515-FORD (3673)
Born in Blue Ridge, GA, Zach is engaged to Erin George. When not running the Quick Lane at Ronnie Thompson Ford, he can be found in the woods, with a 4x4 and it better be a diesel. He enjoys exploring as he seeks out new places to hunt and fish. Favorite food: BBQ. Perfect Sunday: Church, family and anything outdoors. He is a huge country music fan. Zach has a very unique eye for wheels and tires. He can spot brands just looking at the design of a rim or the profile of a tire. Now that is amazing!!!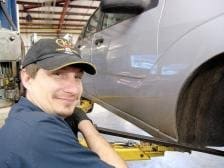 Darren McAuthur - Service Tech
706-515-FORD (3673)
Darren is a very quiet guy. Born in Ellijay, he is single, so he spends a great deal of time working on cars, going fishing, and listening to any type of music. Sunday's are for resting, relaxing and eating pizza. His favorite color is Red.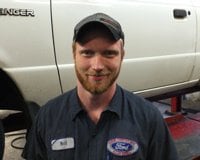 Nat Mashburn - Service Tech
706-515-FORD (3673)
He was born in Tennessee, but has spent his entire life in Ellijay, GA. Nat is a single guy who enjoys fishing, 4x4's, off-roading and football. Favorite food: T-bone steak on the grill (oh yeah). Sunday's are spent in the woods, exploring in his truck and always looking for the perfect fishing hole. He enjoys classic country. So, how good of a mechanic is he? Well, he blew an engine in his truck, towed it home rebuilt it and drove it to town the next morning. Get outta here… WOW!!!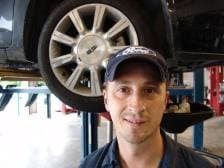 Jeff Stanley - Service Tech
706-515-FORD (3673)
Jeff was born in Gainesville, GA, but raised his entire life here in Ellijay. Married to his wife Terri for 10 years and they have a beautiful baby girl. His favorite hobby is waterskiing and spending time on the many lakes around the north Georgia Mountains. Favorite food - BBQ ribs…mmmmmmmm. Sunday's are ALL about family. Most people would not know his way to unwind is with a rod and reel, casting the lakes of Colorado catching trophy trout. Nice!!!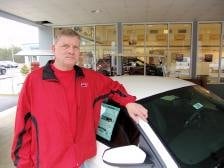 Billy Crump - Detail Shop
706-515-FORD (3673)
Born and raised in Ellijay, Georgia, Billy has deep roots in the automotive business, having been a detailer his entire life. He is married to his lovely wife Becki and between them, they have four children. He loves Mexican food(mild please), classic country music, warm weather and Sunday afternoons watching NASCAR (cheering on his favorite driver, Kasey Kahne #5). He comes from a large, loving family of six brother and two sisters. That's a dang sports team!!! When it comes to automotive detailing, he knows how to "Get the Shine On".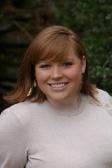 Jessi Thompson - Office Manager
706-515-FORD (3673)
profile coming soon.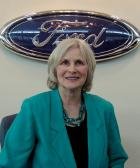 Patsy Davenport - Receptionist
706-515-FORD (3673)
Miss Patsy is a Gilmer county native who logs a lot of miles walking near her home. When she is not working (this lady works too much), she takes the time to curl up with a good book. Baking is a passion (I hear her pound cake is the real deal). Patsy says nothing beats a powerful sermon in Church and lunch at her Mother's home. She loves her country music and finds the color Blue to be calming. Although she adores north Georgia, when you ask her about a favorite place on earth, without hesitation she says "Jackson Hole, Wyoming".